For Livestock

Stock Guard® Concentrate
Diluted, this product can effectively control a wide range of insects on livestock and in and around their premises. One 64 oz. bottle can make 50 to 200 gallons. Effectively control flies, lice, ticks, beetles, mites, gnats and more in cattle barns, milk rooms, dairies, horse barns, poultry houses, swine houses and kennels and on cattle, sheep, goats, swine, horses, poultry and dogs.
NOT AVAILABLE FOR USE IN RESIDENTIAL MISTING SYSTEMS IN THE STATE OF NEW YORK
NOT AVAILABLE FOR USE IN CALIFORNIA

Features:
Use on variety of livestock
Use on livestock premises
Use in automatic misting systems
Can make 50 to 200 gallons
Use in non-thermal foggers

Livestock Species:
Cattle
Sheep
Goats
Swine
Horses
Poultry
Dogs

More Information:

Refill Instructions:
Add 1/2 amount of required water to tank
Add Pyranha® Stock Guard® concentrate to water while filling if possible
Add balance of water while mixing or forceful spraying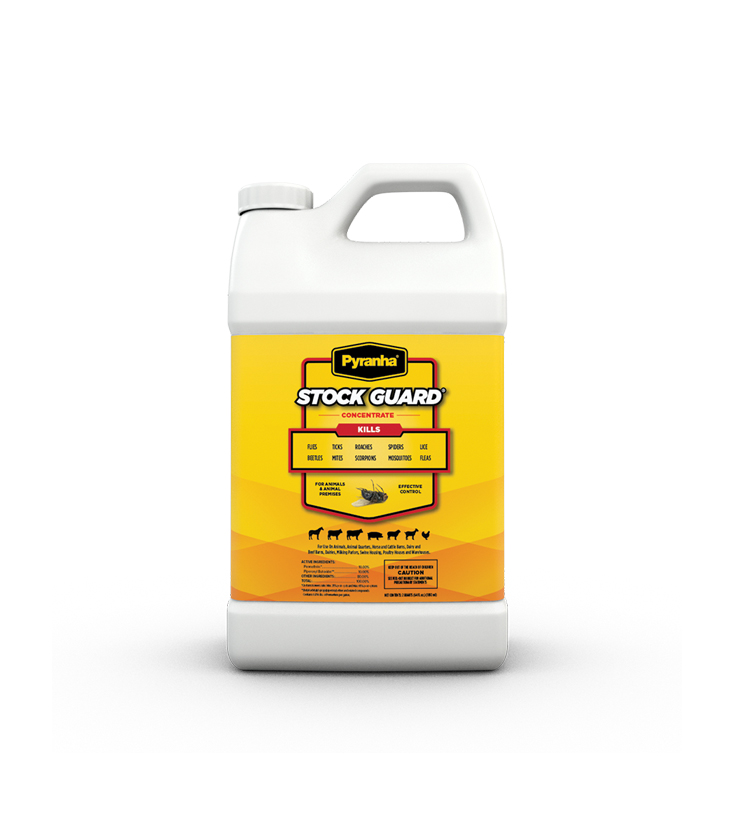 Stock Guard® 8oz
This synergized concentrate effectively controls a wide range of insect, including flies, mosquitoes, lice, ticks, mites, gnats and more. Diluted, this product is approved for use directly sprayed on livestock and with the use of back rubbers. Stock Guard® can also be used as a premise spray. One 8oz bottle will make 6 to 25 gallons depending on application.
Great for Back Yard Chicken Flocks & Coops
Makes up to 25 gallons for control of fies, mosquitoes, gnats and poultry lice.
Easy to Use Back Rubber Concentrate
8oz makes 5 gallons of Back Rubber Solution